People planning to buy or sell their
Manhattan homes
have faced some unique challenges over the last few years. Starting with the pandemic in 2020, the real estate market — both locally and nationwide — has experienced its fair share of ups and downs. Last year, in 2021, home buying rebounded and became extremely competitive. Low inventory led to many individuals submitting offers well over asking, as well as ample frustration.
Now in 2022, inflation has become the main story to follow. For a variety of reasons, the cost of goods has skyrocketed. Eggs, gasoline, rent, and everything in between cost significantly more than they did a year ago. This has affected people of nearly all income brackets. Inflation has also started to hit the real estate market in a number of ways. Explore how inflation has impacted the New York City housing market over the past several months.
Property values have increased
Although they haven't increased at the same rates as last year, property values are still rising in many locales. Condos, luxury properties, and single-family homes have continued to appreciate in value. In some locales, this has meant major profits for those who already own a home in New York City. Renters and sellers can charge a much higher amount than ever before, which is a major win for these individuals.


For buyers, however, this continuing trend has brought about frustration and anxiety. With rent up an estimated
11.3 percent
since last year, an alarming number of people have been forced to find lower-cost places to live. The increased cost of renting has made it much more challenging to save up a down payment, especially with homes costing more than they ever have. With the average cost of rent in New York City at a high and the staggering cost of everyday goods, inflation is deeply impacting the local real estate market.
Challenges for first-time buyers
Younger buyers who had hoped to purchase their first residential property are now finding that this dream has floated further away due to inflation. Cost of living figures has skyrocketed in every city across the nation, making daily living a challenge for too many individuals. On top of this, wages have become stagnant, making it harder to afford the basics.


Because of these factors, New York City is likely to see fewer first-time home buyers in 2022. Until inflation begins to calm down, or until wages catch up significantly, it is almost impossible for the average renter to get ahead. For example, if the median home sale price in New York City is currently $760,000, which is on the cheaper end of home prices, an individual would still need to save a whopping $160,400 for a 20% down payment. And with the average
yearly salary
in NYC sitting at $65,904, this goal would take a prolonged time to achieve.
Luxury and vacation property purchases are slowing down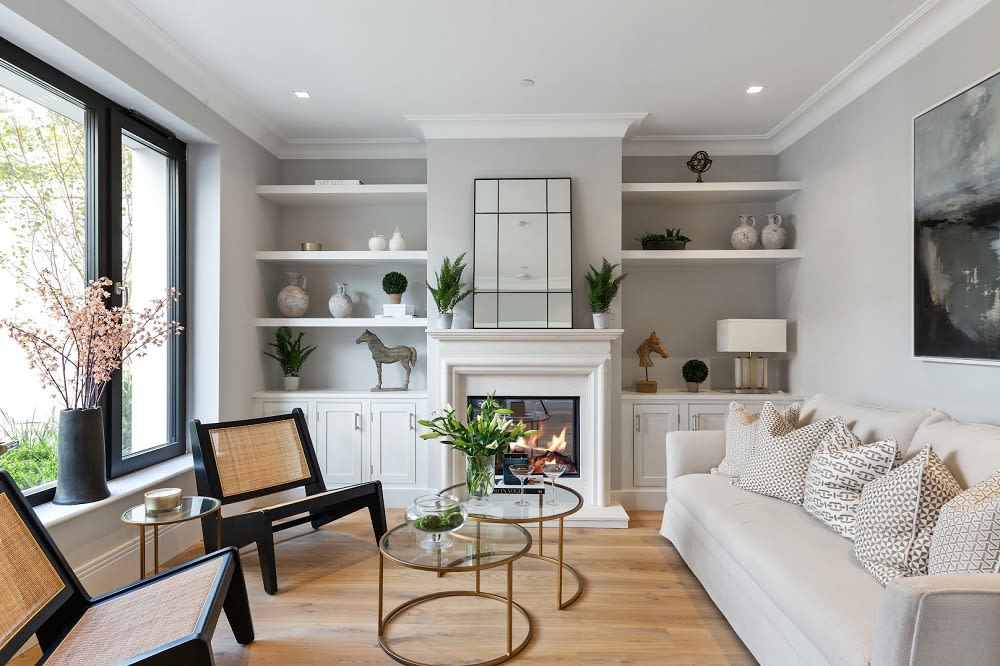 Aside from primary residences, inflation increases are also affecting other types of property purchases in New York City.
Since luxury investments, second homes, and vacation properties are inessential purchases, more individuals are opting to delay them. Until inflation and interest rates calm down, wealthy buyers are also playing it safe in the current economic conditions. Some are waiting for inflation increases to subside so that they can get better prices on their new real estate acquisition.
Rising rental costs pushing people into home ownership
Select NY residents are in the unique position of being "pushed" into home ownership. During periods of inflation, it is common for landlords to substantially raise monthly rent payments. Across the nation, this common practice is happening daily under the current economic conditions.
These rent rate hikes are forcing some to evaluate their budgets. It is also pushing people into comparing what it would cost to have a monthly mortgage payment versus a monthly rent payment. Surprisingly, some individuals will discover that it is actually cheaper (or not much more) to buy. This "push" into home ownership also comes with tax benefits, improved financial stability, and a permanent place to reside.
Real estate purchases are likely to remain steady
Despite the current fluctuations in the market, there are some positive takeaways. According to analysts, real estate purchases — both in New York City and nationwide — are expected to remain steady. For those working in the industry, this is certainly welcome news after a turbulent two years.


Although inflation is certainly affecting various parts of the home buying/selling process, realtors have been selling about the same amount of houses that they have in past years.
Excellent for current investors
Another major benefit experienced in the real estate industry during times of inflation is asset appreciation. Investors reap the perks of having properties that jump in value, which can then be sold for a sizable profit. Alternatively, these properties can be rented out at a higher than typical rate, which is also a massive payoff for real estate investors.


If you've invested in one or more properties and are thinking about cashing in on this current wave of inflation, now is the time to do your research. Home values will not continue to increase at the pace of the last year. Within the next one to two years, property values may even start trending downward. The decision to sell or rent is not an easy, one-size-fits-all choice. Ample consideration and expert consultation should be performed before creating your next real estate listing.
Navigate inflation with a skilled realtor
Any time the economy is uncertain, buyers and sellers understandably feel on edge. Not knowing for certain what will happen next can scare even the most seasoned of buyers and sellers.


Rather than sitting in fear, wondering what your next move should be, leverage the expertise of
Kobi Lahav
and his team of professionals. With years of industry experience in New York City, we know what it takes to navigate the unpredictable waters of the real estate market.
Planning on buying or selling in the near future? Don't hesitate to contact us. On our
website
, you can also research property valuations, browse available homes, and learn more about Kobi. Additionally, feel free to call us now at 917-858-1915 with all of your questions.